DEVASTATION REVEALED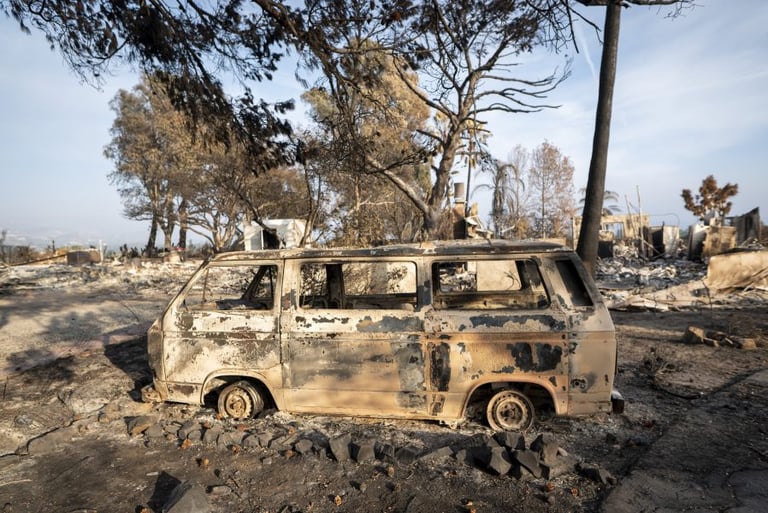 Last Sunday, Surfrider LA activists Adam Dole, Lindsey Jurca, Will Durland and I teamed up with our South Bay cohorts to run supplies to victims of the Woolsey Fire in Malibu. The team met at Von Lintel Studios in Hawthorne at 7am and loaded a fifteen foot UHaul with generators, oil, gasoline, air purifiers, extension cords, power adapters, batteries, lamps, water, and non-perishables. Led by Earth Technologies founder, Ryan Harris, we slowly made our way to the ad hoc Woolsey Fire relief center at Point Dume Marine Science Elementary School. Harris, who has raised nearly $12K in donations for the relief effort had spent the last four days conducting supply drops via boat, jet-ski, and SUPs at Paradise Cove. Today we were making runs by land.
At Point Dume, we were greeted with warm enthusiasm by Helen Hening – the daughter of Surfrider's founding father, Glenn Hening – who was coordinating efforts from the relief center. After a quick debrief, we were soon being escorted by Engine 170 of the Los Angeles Fire Department up the PCH to Encinal, heading further into the mountains toward Decker Canyon where roughly 100 homeowners had been stranded without power for 10 days. Slowly snaking up Encinal, the devastation was incomprehensible. News reports of the fire having destroyed some 85% of the Santa Monica Mountains wilderness area became heartbreakingly apparent. Snapped power lines suspended above the highway. Electrocuted deer lying rigid in the rubble. Every turn revealing another flank of scorched chaparral, each horizon a field of utter destruction.
We arrived at the top of Decker Canyon where we met a handful of firefighters who had established a makeshift supply drop. We unloaded our trucks and began organizing the supplies. Soon we were being greeted by a handful of old ranchers who eagerly took our hands, thanking us with glassy eyes and fragile smiles. These were the Malibu locals that you won't hear about in the news. Not the celebrities or the vacation-home owners, but quiet working class folk whose relative wealth lie in the land and the walls that have been passed through their families for generations. A man named Gary led us over supple ash to the edge of the ridge where he pointed out his property – a spire of color and life in a now barren valley, grey as the apocalypse. Gary had stayed back to protect his land and home because without it his family would have nothing. For 62 years he has lived in Decker Canyon and never had he experienced anything like this. Times, he said, are changing. There wasn't much else to say.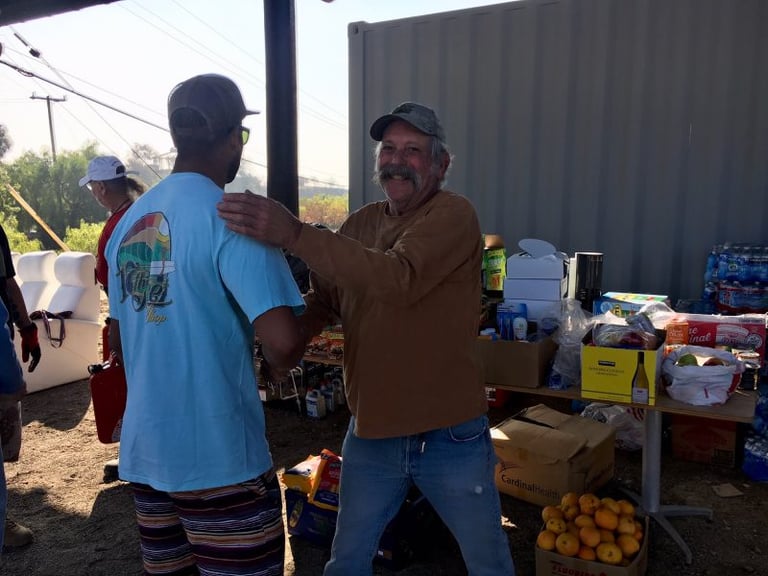 We snapped a few photos and said goodbye to our LAFD escorts who let us show ourselves out of the canyon. Driving down Decker through gullies of ghosted oak and sycamore we negotiated hairpin turns where utility heroes quietly worked to get Western Malibu back online. It was hard not to think of what this place will look like if just enough rain comes along and turns every canyon west of Kanan into a sluiceway of mud and rock. What will it mean for the homes left standing? What will it mean for our coastal ecosystems?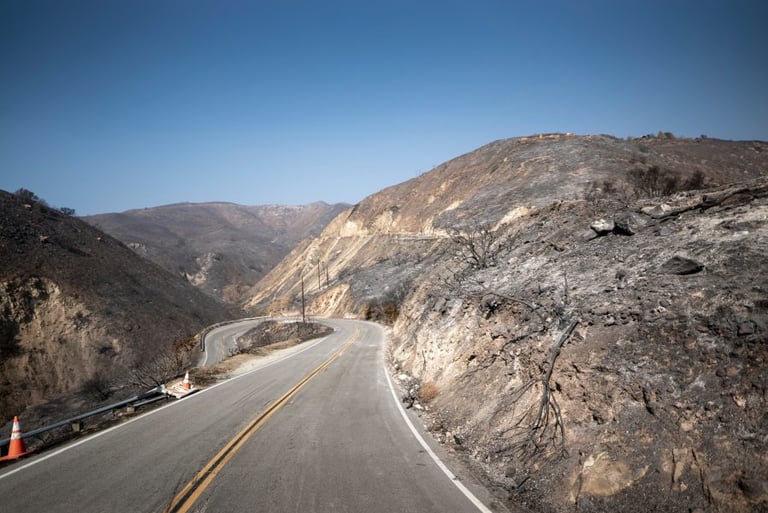 With four of us crammed into the UHaul, we snuck past Highway Patrol to assess the damage at Leo Carillo, one of our favorite local treasures. We were surprised to see that much of the campground had been spared, the ridgelines on either side of the canyon and the beach itself having gotten the worst of it. Standing beside a torched lifeguard tower the fire seemed to eat everything on the beach but the sand. Along the PCH, sagging power lines hummed with fractured current as a couple of women threw vegetable scraps around the bases of dead shrubs. "We're feeding the animals", one of them said.
Will, Lindsey, and Adam fanned out along the coast while I sat down to watch low tide lines mount on the point. The mere thought of surfing felt vulgar. How could anyone enjoy themselves in the face of so much destruction, under the weight of so much loss? But as I gazed at set after empty set, the sea slowly struck me as an abandoned child that seemed as confused, heartbroken, and scared as I was. She had been deserted and left alone to watch as the watershed that fed her went up in flames. Sitting there on a cairn of smoked-out cobbles, each wave became an offering, an invitation to heal. A child wanting to be played with and protected. A child reminding me with sharp crystalline eyes that she needed me just as much as I needed her.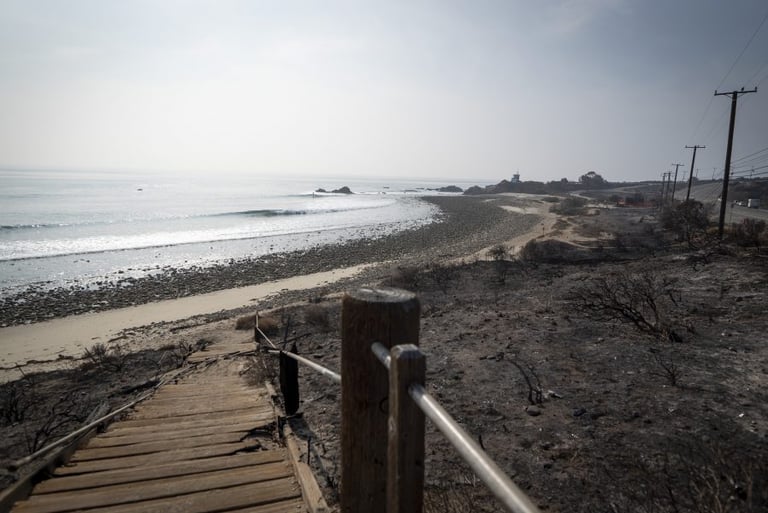 We all regrouped and made our way to Adam's condo above Westward Beach that was thankfully spared from the flames. Driving back toward the PCH over Dume Drive, many others weren't so fortunate. The fire seemed to hopscotch estates on Point Dume leaving behind a patchwork of luck and ruin where some of Surfrider's most ardent supporters had lost their homes. We drove back down the coast in relative silence – saddened by all that has been lost, grateful for all that survives, and resolved to help pull our community out of the ashes.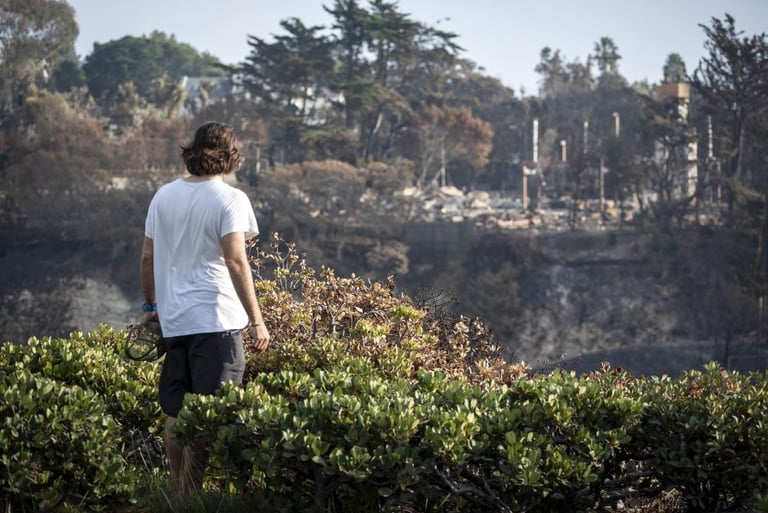 THE LONG ROAD TO RECOVERY
Surfrider LA is committed to the continued support of current and future relief efforts related to the Woolsey Fire. In the coming weeks we will be teaming up with the Boys & Girls Club of Malibu to support on-the-ground volunteer efforts as well as the raising and allocating of funds to help affected families.
While there are many worthy statewide and national organizations to support during these difficult times, Surfrider LA is focused on leveraging the work of local groups who can remain nimble in these times need. As such, we encourage you to get involved and contribute to the following organizations:
In addition to various relief efforts, Surfrider LA is exploring special water quality monitoring to test for toxic chemicals associated with burned infrastructure. These chemicals will likely make their way into our coastal waterways during significant rainfall and it will be critical for our ocean-faring community to understand the elevated risks of exposure. For more information related to water quality testing, please reach out to our Blue Water Task Force at bwtf@la.surfrider.org
With Malibu residents only recently able to return to their homes, the effects of the Woolsey Fire are still being assessed. The road to recovery will be long and difficult, and it's true that much needed rains could unleash another disaster such as we saw earlier this year in Montecito as a result of the Thomas Fire. Unlike wildfires, mudslides occur without warning, and it's critical that community members keep an eye on the weather and use extreme caution in areas affected by fire. The USGS has a terrific resource here that explains the risks and will help keep you prepared.
The events over the last 12 days have been deeply harrowing, and our hearts go out to all of the people, plants, and animals affected. Malibu has given so much to our organization over the years and we are dedicated to doing everything we can to support its recovery. We've been protecting and enjoying Malibu since 1984 and we're not going anywhere.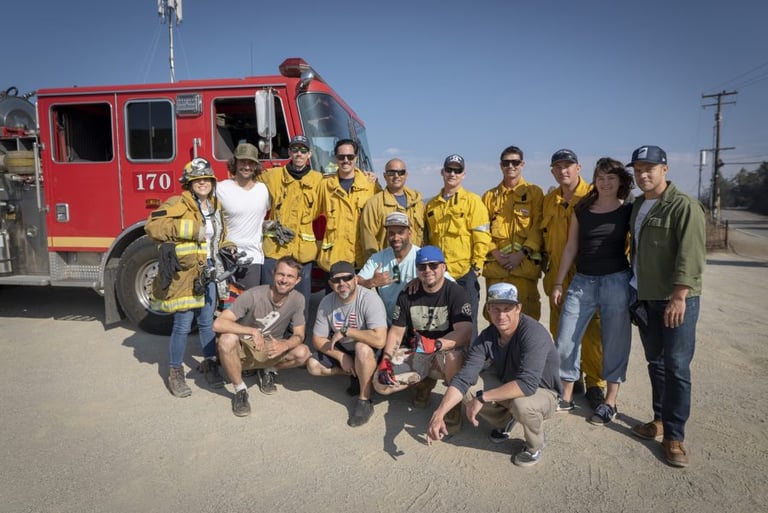 Feel free to reach out with questions and concerns at ghamilton@la.surfrider.org
Photos by Will Durland @wdurland1