Surfrider Beach has long been home to a wealth of ecological and cultural resources and is one of the most famous beaches in the state of California. It is an iconic surfing mecca and continues to hold tremendous value for the community; biological, economic, and spiritual.
Today, Surfrider Beach and the Malibu Lagoon are imperiled by the impacts of chronic coastal erosion, which is increasing each year. In the last six months we've lost two 80 year-old Canary Island Date Palms and nearly 20 feet of property along the southwest corner of the Adamson Estate. On May 6, 2019, LA County Beaches & Harbors was compelled to drop 50 tons of granite revetment on the beach at First Point in an attempt to protect the historic Wall from falling into the sea. Once again we have found ourselves in an emergency situation that might otherwise have been avoided through proactive planning and resource management.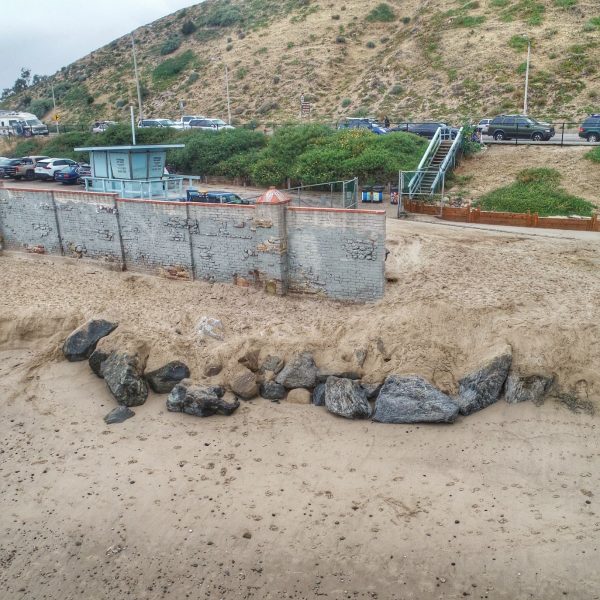 Surfrider Beach is a classic rivermouth point break that has been shaped by the outflow and accumulation of rocks, clay and sand over thousands of years. Since the early 1900s, through our development of the lower Malibu Creek watershed, we have imposed a series of artificial constraints that invariably influence the dynamic coastal processes at Malibu Lagoon and Surfrider Beach. From Rindge Dam to the PCH, from Cross Creek to the Colony and multiple lagoon restorations in between, the lower watershed has been highly modified. Each of these man-made alterations combined with loss of sediment and sea level rise factor into the erosion we are witnessing today. Unless we are willing to dismantle over 100 years of development, it is incumbent upon us to adopt a more comprehensive management strategy that considers all resources, including recreational, to safeguard Surfrider Beach and keep it a crown jewel of the California coast.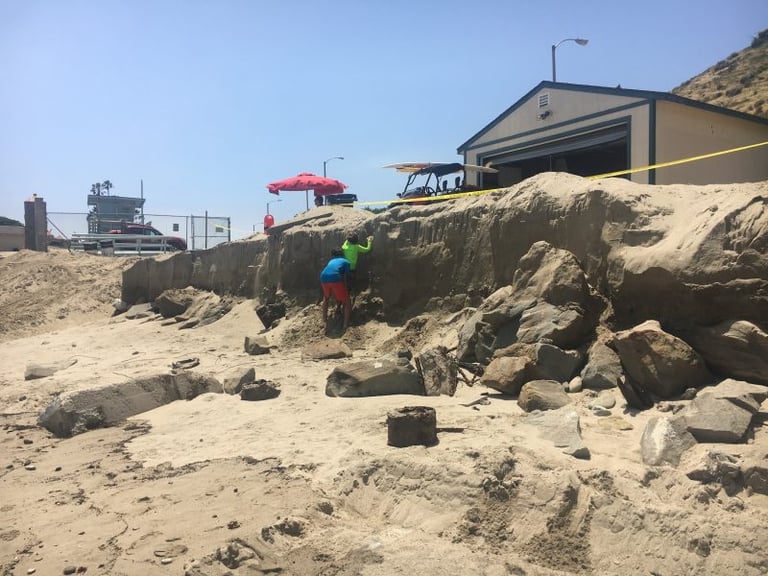 Since 2011, Surfrider Foundation has advocated for an adaptive management program for the inlet at Malibu Lagoon that encourages seasonal creek flows to the west at Third Point. Many parts of the lagoon are already subject to human management, including wastewater discharge, the creation of wetlands, creekside armoring, dredging, sediment transport, and historic mechanical breaching of the inlet.
There are four primary benefits for adopting a management program that encourages a westerly flow of the creek during the first rains of the season:
Reduced erosion at the Adamson Estate and subsequently Surfrider Beach.
Enhanced public safety by improving lifeguard access to Second and Third Points.
Increased wave quality.
Increased tidal circulation to wetlands.
From a biological standpoint, experts agree that the timing of the breach is critical with regard to sensitive aquatic species whereas the location of the breach is not. Therefore, any management program should be conducted in an environmentally sensitive manner that doesn't interfere with protected species.
Surfrider Foundation is committed to establishing the following:
SHORT-TERM SOLUTIONS
Preliminary hydrological and geomorphological studies of Malibu Lagoon and inlet.
Reinforcement of the historic Wall and lifeguard towers at First Point, as well as the southwestern edge of the Adamson Estate using soft solutions, such as sand berms as has been previously carried out by LA County Beaches & Harbors.
Mechanical relocation of the Malibu Lagoon inlet to the western end of the beach at Third Point, to be carried out at a seasonally appropriate time and in consideration of protected species.
LONG-TERM SOLUTIONS
Ongoing adaptive management program for the inlet at Malibu Lagoon.
Ongoing geomorphological monitoring of the inlet and Surfrider Beach.
Feasibility study to construct a living shoreline / dune system along the southwestern edge of the Adamson Estate, incorporating concepts such as cobble mattressing similar to what was implemented at Surfer's Point in Ventura, CA.
Removal of Rindge Dam and employing beneficial reuse of the approximately 700K+ cubic meters of impounded sediment.
There are multiple local, county, and state agencies that work to maintain the integrity of California's coastal resources. Those responsible for managing our coastal inlets and estuarine environments can be difficult to coordinate, especially when it comes to Malibu. Public agencies excel in emergency situations. Decisions get made and things get done. Reactivity comes by necessity. But in the age of climate change we need agencies willing to adopt proactive measures that work to keep us from running into emergencies in the first place.
The Surfrider Foundation is calling on CA State Parks, LA County Beaches & Harbors, the City of Malibu, the Santa Monica Bay Restoration Commission, and other relevant stakeholders to work with us in developing both short and long-term, nature-based solutions that will not only serve to protect Surfrider Beach and the Malibu Lagoon, but better prepare us for the looming impacts of climate change and sea level rise.